About Hosthero®
Our Mission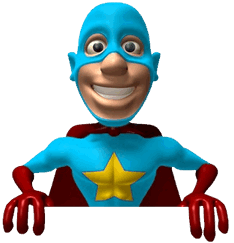 Your experience as a customer will only be as good as the team delivering it. We care and are passionate about the success of your online presence because you are. We are not just another faceless hosting company promising sensationally cheap web hosting elixirs and delivering disappointment.
Our UK team of super heroes offer a simple, no nonsense approach to web hosting guaranteeing you the finest 24/7 customer support in the industry, implemented by new, cutting edge technology and delivered with good old fashioned, customer focused service.

Always give customers more than they expect. Our customers are the most important factor of our business, they are not dependent on us. We are dependent on them.

Meet the heroes behind the masks, who are never too busy to help you...
Matt Nixon | Managing Director

Matt has spent many years working for leading IT/ hosting companies. He has a thorough understanding of the business and over the years has learnt the pitfalls to avoid, having observed the mistakes others have made. He appreciates what it takes to make a hosting company work. This was the primary motivation for him starting Hosthero®.

I knew things could be done differently, I wanted a simple, customer focused approach that removed all the technical jargon and gave you what you wanted: Affordable prices, reliable, secure technology to keep your website running fast and the ability to ALWAYS be able to talk to someone when you need help.

If you would like to contact Matt personally for anything, please use the following email address: mnixon@hosthero.co.uk
Matthew Meaney | Technical Director

Matthew has worked for some of the most successful companies in the UK. More recently he has worked as a freelance consultant for small and medium businesses, helping them increase and improve their online presence. He is meticulous and thorough in everything he does and his hard work and attention to detail combined with his exceptional knowledge of IT ensures the technical side of Hosthero® runs like a well oiled machine.

No business can run effectively and efficiently without the proper use of technology. But it's not just enough to have the best tech, it's nothing without the best tech support. I strive to make your web hosting the culmination of these two important points.

If you would like to contact Matthew personally for anything, please use the following email address: mmeaney@hosthero.co.uk
Marmite | Company Cat, Part-time Technical Assistant

Recently, believe it or not, Marmite managed to re-redirect our company homepage URL to our check-out page by merely wandering across one of our in-house laptops. We briefly considered replacing Matthew (Technical Director, above) with Marmite, due to her quick wits and great business sense, but she point-blankly refused the position outlining she wouldn't be able to fit any further tasks into her already hectic day of eating, sleeping and looking pretty!

Meoooow!

If you would like to contact Marmite personally for anything, please use the following email address: marmite@hosthero.co.uk